Most clients experience significant changes after the
first session

.
I am a guest in your world that you know best. That's why I don't give you advice and never judge you. I work with the best inside of you.
Everyone has the inner resources that he or she needs - including you.
What can you gain from working with me?
I focus primarily on self-esteem and self-confidence. What are the most common topics?
feeling comfortable in social situations – and being your authentic self (when meeting new people, at work, anywhere)
diminishing anxiety or a phobia (of spiders, darnkess…)
setting attractive goals and achieving them
improving relationships with others, better conflict management
deepening the relationship to yourself and the perception of yourself
Together, we can advance your life in these areas and others as well.
How it works
We schedule our session
I hold online sessions because I travel long-term. They are equally as effective as meeting in-person.
60 – 90 minutes
The results are most important. That's why we can extend the usual 60-minute session to up to 90 minutes.
Pleasant and informal atmosphere
I want you to feel at ease because the better you feel, the better the results will be.
The sessions are efficient
We get to work from the very beginning of the session. I combine questions, NLP techniques and my observations so that we can arrive at an outcome efficiently.
Clear results
Every session has a clear outcome/result, which we agree upon at the beginning.
Support between the sessions
I usually meet with clients 2x a month. I am also available to you between the sessions by phone and email.
At the beginning, I ask a lot of questions in order to understand your world. Doing this also helps clients view their problem from different angles. I don't give advice; you already know what you need, but probably have yet to realized it. My job is to find and use your inner knowledge. I work with your subconscious mind as well to deepen the effect of the coaching. Not only do we discover and resolve your concerns, but we also implement change during the session. At the end, we agree on an action plan for the next days and weeks.
In the first session, we set your desired outcome for the entire coaching process and I help you take the first steps. In the following sessions, we build on your goals, as well as cover any new topics that may arise between sessions and are important to resolve – because happiness and success in life never result from focusing on only one area. All areas of life must be in harmony.
How much does it cost
First session
The first session is free of charge. We get to know each other, go through your expectations and clarify your goals.
It's not just talking, it's coaching: outcome-oriented session focused on benefitting you.
Next sessions
In my experience, the following sessions are even more efficient because we have already clarified your goals, needs and beliefs.
5 pre-paid sessions
You reap the greatest benefits from long-term coaching.
By committing to 5 sessions, you also receive a better price.
It's about you
The responsibility for getting your desired results lies with you. We will find the way together and I will support you, but you are the one who must take the steps forward.
You need to fully commit yourself both during the sessions and afterwards, because the success of coaching depends half on the coach and half on the client.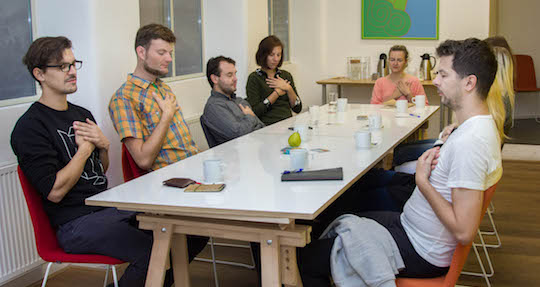 Shall we try it out together?
Send me an email. The first session is free of charge.